Hi there,
I hope you've already seen the stories on my Instagram (@haan.chen) on August 10th explaining why I'm not able to ship your zinstax by the end of the week as I promised. In case you've missed them, here are the screenshots: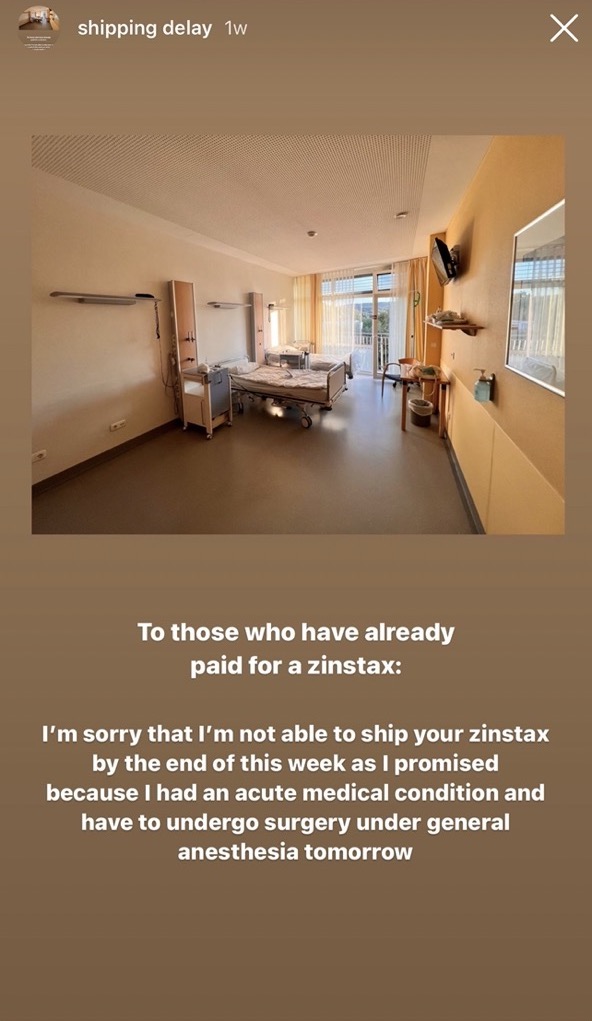 Unfortunately, I had an acute medical condition on August 10th, two days after I had sent out the invoices for a new batch. I was hospitalized on the same day. I then went through surgery the next day under general anesthesia. I took a sedative half an hour before the surgery which was pretty effective as I can barely remember what had happened.
A week later I noticed signs of wound infection, but the general practitioner says everything seemed normal, so please don't worry about me.
I can't sit for too long without taking painkillers, so I'm afraid I still can't start making your zinstax, which involves sitting in the basement for up to 7 hours without taking a break (because I'll have to wear a respirator and hazmat suit to keep the glass fibers out. It's a pain to take them off and put them back on when you're covered in plastic shreds and glass dust).
I'm sorry for the delay, and if you don't want to wait any longer and would like a refund, just let me know.
– Han